Overview
Learn How to Play the Modern and Pirc Defense
Build a powerful chess opening repertoire for Black against 1.e4 with the Modern Defense and Pirc Defense in this 35+ hour Super Mega Bundle, presented by GM Damian Lemos, GM Fabien Libiszewski, GM Roman Dzindzichashvili, IM Andrew Martin and more great chess coaches.
The Pirc (1.e4 d6 2.d4 Nf6 3.Nc3 g6) is a hypermodern opening with a deceptively deadly attacking edge. Black's g7 bishop and queen on a5 shred White's position, setting a ton of tactical and strategic problems that will overwhelm most players.
The Modern Defense is similar to the Pirc but we delay the development of the knight to f6, staying flexible, and giving White more opportunity to make mistakes.
This Mega Bundle covers pretty much every good line you can play with the Modern Defense or the Pirc Defense.
Beat 1.e4 with the Modern and Pirc now!
About the Authors
Fabien Libiszewski is a French chess International GrandMaster, he obtained his grandmaster title at the age of 25, in the year of 2009.
He learned chess from his father when he was a child, and he started competing in 1992 but he really only got seriously involved with chess in 2002 when he decided to become a professional chess player, and then started to obtain some great victories in tournaments and championship as well as international events.
Damian Lemos is a grandmaster from Argentina with a peak rating of 2559 Elo.
In his lessons, Damian works closely with students to first identify the flaws and weaknesses in their games so that they can be properly evaluated and corrected.
By developing specifically-tailored training regimens for every one of his students, Grandmaster Lemos is able to achieve results that other chess coaches dream of.
Grandmaster Roman Dzindzichashvili is a two-time U.S. Champion & Russian Champion, World Open Winner, Writer & Teacher, Former Chess Coach & Trainer for World Champions Gary Kasparov & Anatoly Karpov.
Also, Andrew Martin, Attila Turzo, Aaron Summerscale, and David Norwood are experts in the Modern & Pirc and renowned international chess coaches.
Some of the Volumes Included
Libiszewski's Pirc & Modern – GM Fabien Libiszewski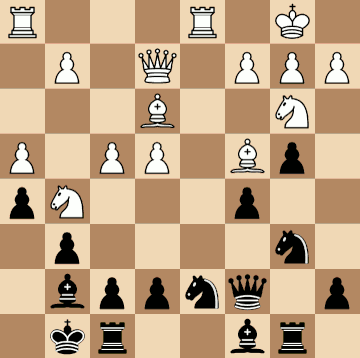 Grandmaster and opening theoretician Fabien Libiszewski turns his attention to the Pirc Defense and Modern Defense for Black in this comprehensive 8-hour training.
Some of the things you'll learn:
-The hidden king. White spends all their energy attacking the kingside… only to find your king isn't at home. GM Libiszewski shows how to build a second, safer home on d7!
-Dealing with e5. White won't be able to resist playing e4-e5. It's our job to make sure that's a bad decision. Fabien analyzes wins for both sides, revealing the crucial factors in this battle.
-Regicide on the queenside. White often castles queenside, hoping to get a pawn storm going. Follow Libi's rules, however, and your attack will land first every time – see how a lower-rated player uses them to rip apart a 2636 SuperGM! (Diagram)
Master the Pirc/Modern complex and you have one killer response to anything White comes up with.
Ready to add this fighting defense to your repertoire?
The Modern Defense – GM Damian Lemos (Lemos Deep Dive Vol. 16)
Whether you prefer quiet strategic positions or wild tactical positions, the Modern Defense (1.e4 g6) gives you the flexibility to push the game in a direction where you feel totally comfortable.
And to be able to do this — without memorizing too much theory —  as Black…is huge!
That's why GMs like Aronian and Andreikin have really taken notice and are adopting this opening, often winning beautiful games in the process.
In this course, Volume #16 in his Deep Dive collection, Grandmaster Damian Lemos demystifies the Modern Defense — breaking down all of the theory, strategic plans and attacking ideas at your disposal.
GM Lemos also points out the critical strategic differences that distinguish this opening from the Pirc Defense, revealing how you could even combine the two openings to create the ultimate repertoire against 1.e4.
Your 6 hours training with Damian will fly by quickly as you soak up more and more weapons and add them to your arsenal — you'll be dying to unleash them on unsuspecting 1.e4 players in your next tournament.
Lemos Deep Dive – The Pirc Defense
In this comprehensive 8 hour Deep Dive course, GM Damian Lemos builds up your knowledge on one of the most dynamic chess openings for Black, the Pirc Defense.
Put your opponents on the defensive with a classic counter-attacking weapon against 1.e4, the Pirc Defense (1.e4 d6 2.d4 Nf6 3.Nc3 g6).
With Super GMs like Grischuk, Ivanchuk, and Kramnik adopting this opening, you're in an excellent company and can enjoy being a master of one of the most exciting opening options available to Black.
As well as a huge theory section covering all reasonable setups White might try against the Pirc, GM Lemos shows how these ideas play out in practice through the analysis of instructive games, making sure you're ready with the most powerful reply!
This is a great way to frustrate your rivals who are used to playing their pet lines as they will end up getting lost in the Pirc's complexities. The Pirc Defense gives you excellent winning chances as it's a highly flexible, tricky, and double-edged opening with which Black can avoid premature simplifications and confidently go for the full point.
Beating the Pirc & Modern Defences "The 150 Attack" – GM Aaron Summerscale
The 150 Attack is a powerful system against the Pirc and Modern Defenses favored by GMs such as Vishy Anand and Michael Adams. As White you build up with pawns on e4 and d4, knights on c3 and f3, with 5.Be3 and 6.Qd2 to follow. You can play the 150 Attack against all Modern and Pirc move orders.
OUTLINE
Part 1: Black delays …Nf6
Part 2: 5…Ng4
Part 3: 5…Bg4
Part 4: 5…0-0
Part 5: 5…c6
Part 6: Black delays …Bg7
'Modern' Modern – GM David Norwood
GM David Norwood has personally pioneered novel ideas and move orders in the Modern Defense which trick opponents into unfamiliar territory. He outlines an aggressive repertoire involving an early …c6. Throughout this DVD he concentrates on explaining the plans and strategic aims in the uncharted positions that arise.
OUTLINE
Part 1: Introduction
Part 2: 4.f4
Part 3: 4.Bc4
Part 4: 4.Nf3
Part 5: Wild 4.h4
Part 6: Conclusion
Modern Defence Repertoire for Black – Part 1, 2 and 3 – IM Andrew Martin
The Modern Defence is a tough system based on counterattack. In this three-volume Foxy Openings series IM Andrew Martin maps out a repertoire for Black for use by players of any level. The Modern creates difficult positions which are ideal if you want to play to win with Black.
Basic Ideas Behind the Pirc Defense – IM Attila Turzo
The Pirc Defense sometimes known as the Ufimtsev Defence or Yugoslav Defense normally refers to the opening 1. e4 d6 2. d4 Nf6 3. Nc3 g6. It is named after the Slovenian International Grandmaster Vasja Pirc. On this DVD IM Turzo walks you through the basic variations and shows you the things to consider at every step.
Content: 139 minutes of instruction and analysis in a series of 5 lectures. PGN Included.
Recommended for: Beginning Players.
Users rated this series: 3.79 out of 5
Chess Fans have said:  I play the Pirc defense and learned a lot about the plans against the various setups white might choose. I am looking forward to watching the rest of the series. 5 stars.
IM Attila Turzo currently resides in Hungary. Attila was the 1998 Hungarian Junior Champion and he earned his IM title in 1997. Attila also won the First Saturday Chess Tournament in May 2004. Turzo is a professional chess coach.
OUTLINE
Part I
Run Time: 00:15:14
Part II
Run Time: 00:38:47
Part III
Run Time: 00:37:03
Part IV
Run Time: 00:22:16
Part V The Austrian Attack
Run Time: 00:26:16
The Dynamic Pirc Defence – The Austrian Attack – Part 1, 2 and 3 – IM Andrew Martin
In this all-new three-volume set on the Pirc Defence, International Master and Senior FIDE Trainer Andrew Martin demonstrates that Black gets dynamic play after 1…d6, 2…Nf6 and 3…g6. This is an opening well-suited to the needs of the club player.
The Pirc is sharp and sets up unbalanced positions that are always interesting.
Easy to Learn Ambitious System for White against Hippo, Modern & Pirc – GM Roman Dzindzichashvili
On this DVD, Roman outlines a perfectly clear and easy to learn lines against The Hippo, Modern and Pirc Defences The lines carefully based on thorough analysis as well as top rated player's games.
Simplicity and ambition are ingredients of the systems suggested. Evaluations of them by Rybka are absolutely staggering. This is by far the best material on the Hippo and Modern Carefully designed and consistent with possible transpositions in to Pirc Defense.
In a short period of time, you can have in your hands an easy to learn system that is a deadly weapon against The Hippo, Modern and Pirc Defences.